Age-Related Macular Degeneration
CATT Study: Cheaper drug found to treat macular degeneration equally

Aktuell: Deutsche Ophthalmologische Gesellschaft zeichnet hochkarätige Veröffentlichungen zu neuen Therapieansätzen bei Netzhauterkrankungen aus: Wissenschaftspreis der Stiftung Auge für Dr. Aysegül Tura (Universitäts-Augenklinik Lübeck)
Durchsuchen Sie hier die Seiten zur altersbedingten Makuladegeneration:
Geben Sie beliebige Suchbegriffe ein (AMD, Therapie, Diagnose, Nahrungsergänzungsmittel...)
Overview CATT Study
---
Source: www.wkyc.com/news/article/187612/7/Cheaper-drug-found-to-treat-macular-degeneration-equally
Cheaper drug found to treat macular degeneration equally
Apr 28, 2011
Written by Monica Robins
CLEVELAND -- Age-related macular degeneration (AMD), a disease that damages the retina and can destroy central vision, affects approximately 1.6 million Americans.
A new study published online today in The New England Journal of Medicine (NEJM) shows bevacizumab (Avastin) is as effective as ranibizumab (Lucentis), the current Food and Drug Administration-approved drug for treating age-related macular degeneration (AMD).
The results are from the "Comparison of AMD Treatments Trials" (CATT) study, a comparative effectiveness trial made possible through funding by the National Eye Institute. Daniel F. Martin, M.D., is the study chair for CATT and chairman of the Cole Eye Institute at Cleveland Clinic.
Derived from the same protein as Avastin - a well-known anti-cancer drug - Lucentis was developed to block blood vessel growth in AMD patients. Lucentis is the FDA approved treatment for AMD, Avastin is commonly used "off-label" to treat AMD.
One dose of Lucentis costs approximately $2,000, while Avastin costs about $50 per dose. Both drugs are manufactured by Genentech.
CATT found visual acuity improvement was virtually identical (within one letter difference on an eye chart) for either drug when given monthly. In addition, no difference was found in the percentage of patients who had an important gain or loss in visual function. When each drug was given on an "as needed" (PRN) schedule, there also was no difference (within one letter) between drugs.
WKYC-TV
---
Ferienhof am Ostseestrand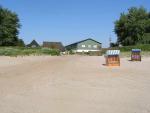 7 Ferienwohnungen sind in diesem Ferienhof mit Reitbetrieb am Strand Holnis untergebracht. Alle Ferienwohnungen sind mit SAT-TV ausgestattet. Jede Wohnung verfügt über eine gemütliche Eßecke und Sitzgarnitur. Ein Duschbad gehört ebenfalls zu jeder Ferienwohnung. Großer Garten, Grillhütte und Spielplatz sind am Haus!