Durchsuchen Sie hier die Seiten zur altersbedingten Makuladegeneration:
Geben Sie beliebige Suchbegriffe ein (AMD, Therapie, Diagnose, Nahrungsergänzungsmittel...)
News Epimacular Brachytherapy for Age-Related Macular Degeneration (AMD)
---
Quelle: http://www.prweb.com/releases/prweb2011/11/prweb8938045.htm
November 06, 2011
NeoVista®, Inc. Reports VIDION® ANV® Therapy System Utilization in Vienna, Austria, for the Treatment of Neovascular Age-Related Macular Degeneration
Eye - Department of the Hospital Rudolfstiftung in Vienna performs first Epimacular Brachytherapy procedure outside of a clinical study
NEWARK, CA (PRWEB) November 06, 2011
NeoVista, Inc. announced today the first commercial utilization of Epimacular Brachytherapy in Vienna, Austria. Epimacular Brachytherapy is performed using the VIDION ANV Therapy System and is being offered as an adjunct therapy to anti-VEGF injections for the treatment of neovascular or wet age-related macular degeneration.
Professor Susanne Binder, Head of the Eye Department of the Rudolfstiftung in Vienna, who performed the first commercial procedure, stated, "The VIDION® ANV® Therapy System is very easy to operate and the functional aspects of the device are quite impressive. I have been involved in the clinical research of Epimacular Brachytherapy during the past 3 years and am excited to now have an additional therapeutic option for my wet AMD patients who require an alternative to the burdensome Anti-VEGF injections."
John N. Hendrick, President and CEO of NeoVista commented, "We are so pleased to have Professor Binder join our growing list of customers. Our local management and our local business partner, OctreoPharm Vertriebs GmbH, continue to provide the needed assistance to open new customer sites and I am pleased with the progress being made. The burden of wet AMD to those afflicted with the disease, and their caregivers, is enormous. We consider it our mission to bring Epimacular Brachytherapy into the mainstream of viable treatment options for this debilitating and life-altering disease."
NeoVista is now concluding the required two-year patient follow-up on its Phase 3 Clinical Trial, CABERNET. The initial data from this landmark study is scheduled to be presented in February, 2012.
The NeoVista approach to treating wet AMD consists of a surgical device that delivers a focused and fixed dose of strontium 90 beta radiation directly to the back of the eye, without damaging the adjacent healthy retinal vasculature. Importantly for patients, the systemic exposure to radiation is easily tolerated, with the therapeutic energy being delivered in a highly controlled manner to the local area of interest. The effective dose from this one-time treatment is less than that from a typical chest x-ray to the entire body.
About NeoVista, Inc.
NeoVista, Inc. is a privately held medical device company based in Newark, California. For more information about the company, or this novel therapy, please visit the company's Web site at http://www.neovistainc.com.
---
Ferienhof am Ostseestrand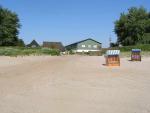 7 Ferienwohnungen sind in diesem Ferienhof mit Reitbetrieb am Strand Holnis untergebracht. Alle Ferienwohnungen sind mit SAT-TV ausgestattet. Jede Wohnung verfügt über eine gemütliche Eßecke und Sitzgarnitur. Ein Duschbad gehört ebenfalls zu jeder Ferienwohnung. Großer Garten, Grillhütte und Spielplatz sind am Haus!