Durchsuchen Sie hier die Seiten zur altersbedingten Makuladegeneration:
Geben Sie beliebige Suchbegriffe ein (AMD, Therapie, Diagnose, Nahrungsergänzungsmittel...)
Overview Eylea for the Treatment of Wet Age-Related Macular Degeneration
---
Source: www.ema.europa.eu
European Medicines Agency - Human medicines - Eylea
On 20 September 2012, the Committee for Medicinal Products for Human Use (CHMP) adopted a positive opinion, recommending the granting of a marketing authorisation for the medicinal product Eylea, 40 mg/ml, solution for injection intended for the treatment of neovascular (wet) age-related macular degeneration (AMD). The applicant for this medicinal product is Bayer Pharma AG. It may request a re-examination of this CHMP opinion, provided it notifies the European Medicines Agency in writing of its intention within 15 days of receipt of the opinion.
The active substance of Eylea is aflibercept, an antineovascularisation agent (S01LA05), which acts by binding and inhibiting vascular endothelial growth factor A (VEGF-A).
The benefits with Eylea are its ability to preserve visual acuity, demonstrated over two years of treatment, by interfering with the progression of the neovascular (wet) form of age-related macular degeneration. The most common side effects are conjunctival haemorrhage and eye pain.
A pharmacovigilance plan for Eylea will be implemented as part of the marketing authorisation.
The approved indication is:
Eylea is indicated for adults for the treatment of neovascular (wet) AMD (see section 5.1).
It is proposed that Eylea be prescribed by physicians experienced in administering intravitreal injections.
Detailed recommendations for the use of this product will be described in the summary of product characteristics (SmPC), which will be published in the European public assessment report (EPAR) and made available in all official European Union languages after the marketing authorisation has been granted by the European Commission.
The CHMP, on the basis of quality, safety and efficacy data submitted, considers there to be a favourable benefit-to-risk balance for Eylea and therefore recommends the granting of the marketing authorisation.
First published 21/09/2012
---
Eylea (VEGF Trap-Eye) for the Treatment of Wet Age-Related Macular Degeneration
---
Ferienhof am Ostseestrand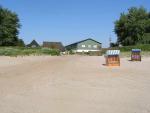 7 Ferienwohnungen sind in diesem Ferienhof mit Reitbetrieb am Strand Holnis untergebracht. Alle Ferienwohnungen sind mit SAT-TV ausgestattet. Jede Wohnung verfügt über eine gemütliche Eßecke und Sitzgarnitur. Ein Duschbad gehört ebenfalls zu jeder Ferienwohnung. Großer Garten, Grillhütte und Spielplatz sind am Haus!