Durchsuchen Sie hier die Seiten zur altersbedingten Makuladegeneration:
Geben Sie beliebige Suchbegriffe ein (AMD, Therapie, Diagnose, Nahrungsergänzungsmittel...)
Overview Eylea for the Treatment of Wet Age-Related Macular Degeneration
---
RTTNews
http://www.rttnews.com/Content/TopStories.aspx?Id=1649070
6/17/2011
FDA Panel Backs Regeneron's Eye Drug Eylea For Wet-AMD
(RTTNews) - Regeneron Pharmaceuticals Inc. (REGN: News ), said Friday that a panel of the U.S. Food and Drug Administration has unanimously recommended for approval its eye medication Eylea, indicated in the treatment of Wet AMD - a severe eye disorder that results in loss of vision.
The FDA's Dermatologic and Ophthalmic Drugs Advisory Committee voted 10-0 in favor of Eylea. Though the panel's recommendation is not binding on the FDA, the agency will consider it while reviewing the Biologics License Application for Eylea.
Regeneron submitted a BLA for marketing approval in the U.S. in February 2011 and received a Priority Review designation, under which the target date for an FDA decision is August 20, 2011.
Age-related macular degeneration, or AMD, is a major cause of acquired blindness for people over the age of 65 in the U.S. and Europe. AMD is of two types: dry and wet, of which the latter type is most severe.
Patients with wet AMD develop abnormal growth of blood vessels under the the central part of the retina that exude blood or fluid, thereby impairing vision. Though only about 10 percent of patients who suffer from macular degeneration have wet AMD, it accounts for 90 percent of all cases of severe vision loss from macular degeneration.
Wet AMD represents a blockbuster market and is said to be worth more than $3 billion. It is estimated that about 13 million Americans have signs of AMD and more than 1 million of them have the wet form. By 2020, this number is expected to increase to nearly 3 million.
When approved, Eylea will be the first injectable drug to compete with Genentech's Lucentis, the most potent treatment option for wet AMD. Lucentis recorded sales of 392 million Swiss francs in the first quarter. Genentech is a part of Roche Holdings AG (RHHBY.PK).
Nevertheless, treatment with Lucentis monthly injection (ranibizumab) is expensive at about $2,000 ($24,000 per year). A cheaper product is Avastin, Genentech's cancer drug, which costs $50 per treatment, and is commonly used off-label to treat wet AMD, even though it is not approved by the FDA for wet AMD.
Regeneron and Bayer HealthCare are collaborating on the global development of Eylea for treatment of wet AMD, as also for central retinal vein occlusion, diabetic macular edema and other eye diseases. Bayer HealthCare is a part of German healthcare and materials company, Bayer AG (BYR.L, BAYRY.PK, BAYZF.PK).
Bayer submitted an application for marketing authorization in Europe Eylea in June 2011. Regeneron maintains exclusive rights to Eylea in the U.S., while Bayer HealthCare will market Eylea outside the U.S., where the profit from future sales will be shared by the companies equally.
The Eylea wet AMD regulatory submissions are based on the positive results from two Phase 3 trials. All regimens of Eylea successfully met the primary endpoint of non-inferiority compared to the current standard of care, ranibizumab dosed every month.
REGN, trading for which was halted pending the FDA panel's decision, resumed trading at 14.20 EST, closed Friday's regular hours at $54.02, down $2.70 or 4.76%
BAYRY.PK closed at $82.60, up $1.41 or 1.74%. On the London Stock Exchange, BYR.L closed at 57.94 pence, up 0.61 pence or 1.06%.
RHHBY.PK closed at $41.12, up $0.12 or 0.29%.
by RTT Staff Writer
---
Eylea (VEGF Trap-Eye) for the Treatment of Wet Age-Related Macular Degeneration
---
Ferienhof am Ostseestrand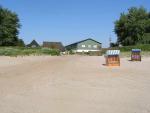 7 Ferienwohnungen sind in diesem Ferienhof mit Reitbetrieb am Strand Holnis untergebracht. Alle Ferienwohnungen sind mit SAT-TV ausgestattet. Jede Wohnung verfügt über eine gemütliche Eßecke und Sitzgarnitur. Ein Duschbad gehört ebenfalls zu jeder Ferienwohnung. Großer Garten, Grillhütte und Spielplatz sind am Haus!