Durchsuchen Sie hier die Seiten zur altersbedingten Makuladegeneration:
Geben Sie beliebige Suchbegriffe ein (AMD, Therapie, Diagnose, Nahrungsergänzungsmittel...)
Source: http://ophthalmologyweb.com/News.aspx?spid=115&newsid=233391&headerid=115
Revolutionary Therapy: Needle-Free Technology For The Treatment Of Blinding Eye Disease
PRNewswire
6 / 20 / 2008
Sydney company, Seagull Technology Pty Ltd, has developed a non-invasive drug delivery device that reduces the risks associated with the treatment of Australia's leading cause of blindness and severe vision loss -- Age Related Macular Degeneration (AMD), a degenerative disease of the retina which affects one in seven people over the age of 50. The technology uses a special gel and ultrasound (sound waves) in a handheld device to send drugs through the outer layers of the eye and into the damaged retina at the back of the eye. It is painless, quick and can be done safely in the doctors' consulting rooms rather than in a hospital or surgery.
Because of a worldwide ageing population, AMD is one of the fastest growing forms of blindness and the potential market for the device is huge, according to company Executive Director, Dr Shanny Dyer.
Currently AMD treatment can require needle injections of drugs into the back of the eye which may cause patient fear, discomfort and carries a risk of further eye damage through complications associated with the injection rather than the drugs themselves.
The NSW Minister for Science and Medical Research Hon. Verity Firth, will launch the technology at the world's biggest biotechnology convention, BIO 2008, in San Diego. Image available at http://www.australiabio2008.com/SeagullNMR.php
Age Related Macular Degeneration (AMD) is a disease of the macula, the central part of the retina, and can result in loss of ability to read, drive, watch television or recognize faces.
AMD is the most common cause of vision loss in the developed world for those over 50 years of age. There are over 200,000 cases in the US and over 20,000 in Australia of people with the "wet" form of the disease, which currently is the only treatable form of AMD and requires the injection of drugs directly into the eye. The market is conservatively estimated at over $200 million annually in the US alone.
Other retinal damage caused by Diabetes related eye disease can also benefit from the device and available treatments.
---
Overview: Ultrasonic - Needle-Free Technology For The Treatment Of AMD
---
Ferienhof am Ostseestrand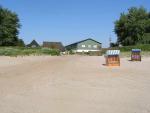 7 Ferienwohnungen sind in diesem Ferienhof mit Reitbetrieb am Strand Holnis untergebracht. Alle Ferienwohnungen sind mit SAT-TV ausgestattet. Jede Wohnung verfügt über eine gemütliche Eßecke und Sitzgarnitur. Ein Duschbad gehört ebenfalls zu jeder Ferienwohnung. Großer Garten, Grillhütte und Spielplatz sind am Haus!