Age-Related Macular Degeneration
Macular Degeneration: SonoEye Device May Deliver Drugs to Eye to Treat AMD Without Injection

Aktuell: Deutsche Ophthalmologische Gesellschaft zeichnet hochkarätige Veröffentlichungen zu neuen Therapieansätzen bei Netzhauterkrankungen aus: Wissenschaftspreis der Stiftung Auge für Dr. Aysegül Tura (Universitäts-Augenklinik Lübeck)
Durchsuchen Sie hier die Seiten zur altersbedingten Makuladegeneration:
Geben Sie beliebige Suchbegriffe ein (AMD, Therapie, Diagnose, Nahrungsergänzungsmittel...)
Source: http://eyedocnews.com/004970-sonoeye-device-may-deliver-drugs-to-eye-to-treat-amd-without-injection/
SonoEye Device May Deliver Drugs to Eye to Treat AMD Without Injection
March 8, 2011
Dr. Ari Weitzner
Researchers at the Centre for Eye Research in Australia are set to begin testing of the world's first needleless device for delivering drugs to the eyeball without injections.
Called the SonoEye, the device uses ultrasound (instead of a needle) to propel medicine through the surface of the eye. The process is a relatively painless one that is over within minutes, and does not carry the same infection risk and need for anaesthetic that an injection does.
The device was developed by Dr Harry Unger, an Australian ophthalmologist.
Assuming further successful testing, the plan is to commence human trials involving patients suffering from AMD in 2012.
The SonoEye was recently the subject of an ABC News report.
---
Overview: Ultrasonic - Needle-Free Technology For The Treatment Of AMD
---
Ferienhof am Ostseestrand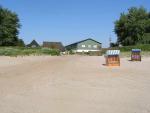 7 Ferienwohnungen sind in diesem Ferienhof mit Reitbetrieb am Strand Holnis untergebracht. Alle Ferienwohnungen sind mit SAT-TV ausgestattet. Jede Wohnung verfügt über eine gemütliche Eßecke und Sitzgarnitur. Ein Duschbad gehört ebenfalls zu jeder Ferienwohnung. Großer Garten, Grillhütte und Spielplatz sind am Haus!